We are all coming to grips with the new normal of social distancing, working from home and generally being very restricted in what we can do. Not being able to duck out to your favourite waterhole for a Friday bevie, or breakfast is frustrating some and has destroyed the livelihood of others.
The old saying goes "necessity is the mother of invention". Inspired by a social media post from local law firm Kennedy Spanner advertising Australia's first drive-through lawyer service; it got me thinking about what other services could we do with right now, adapted for drivethru?
There are your regular suspects such as the QSR fraternity that are well placed to benefit. Interestingly though, in my opinion, there are still opportunities in this space. Take the world of take away pizza. Fifteen or more years ago I could order and pick-up pizza without getting out of my car in the northern Victorian town of Echuca. While that franchise chain is no longer in business (sadly – the eagle edge meat lovers was a favourite) I can't believe that this service didn't become mainstream. Now's your chance "Mr box with the dots".
Originating on the Gold Coast, coffee franchise Zarraffa's was a business quick to jump on this concept. What better way to provide everyone's need for an early morning quality cup of coffee in a time poor lifestyle by popularizing the drive thru coffee. A master stroke if I do say so myself, and many good businesses have followed suit, including a local Toowoomba business, Pump Café.
One notable omission from the QSR field is the Aussie favourite – fish n chips. In my limited research on the topic, I wasn;'t able to find any current examples but surely an opportunity waiting to jump out of the basket.
As I started to upack the topic further; my mind ran wild with ideas beyond the obvious choice of food businesses. I thought surely these are some of the hottest prospect out there and no one's ever thought of them before. However, a quick fact check revealed that across the world and even Australia some of these concepts have been long thought of.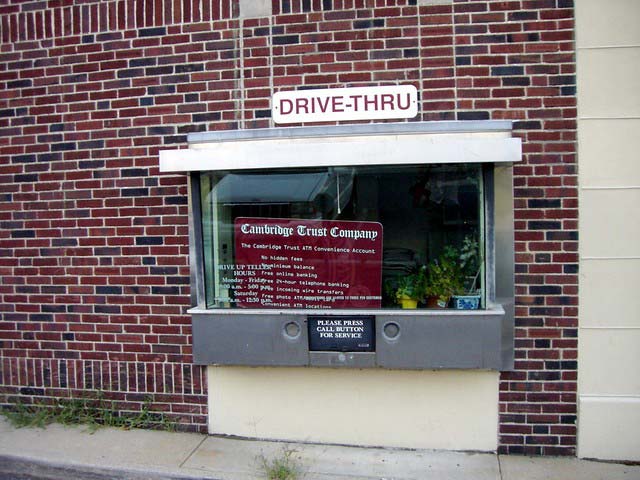 For example, I came up with the bright idea of drive thru banking. Thinking this must be novel it wasn't until I came across an article by the Pubic Record Office Victoria that I realized that the concept was born in Australia some 70 years ago. Sorely needed right now especially for those of the older age bracket who do not yet trust the internet banking system; perhaps it's a service that could make a renascence in these restricted times.
Another hot topic at the moment is grocery shopping and how the restrictions have impacted our ability to buy what we want, when we want it. Also with new social distancing crack down's becoming prevalent, finding a way to beat the que would be gold right now. So surely there an obvious opportunity for our supermarkets to extend beyond "click & collect" model and develop a limited range drive through option. Adelaide business, Ontherun has been providing such a service to South Australians for over 30 years, (their drive thru coffee wasn't half bad either). An interesting opportunity given the current climate.
So what's next? It begs the question, what other services could adapt to this business model.
Postal – surely there an opportunity for drive thru – postal drop-off and parcel pick-up, whether from our national service or couriers alike.
Polling Booths – I was one who was very vocal about the recent Queensland Local Government elections fiasco. In the absence of taking the elections fully virtual, perhaps implementing drive thru polling stations might have been a way to enforce social distancing.   
Realestate – it must be tough being in an industry that relies on personal contact. I'm sure my real estate connections and friends are feeling it. While many are adapting to using technology to highlight their services, perhaps a drive thru centre for document signing and key collection might be a way the industry can evolve.
My final reflection, and I'm truly surprised it hasn't been jumped on by BCC or Hoyts, surely there's a demand for the return of drive-in movies in a social distancing appropriate way.